Linux disk management (2) - Logical Volume Manager
by Wenwei Weng
In Linux world, disk as storage device, it is detected by Linux kernel typically as "/dev/sda", "/dev/hdd". The tools like "fdisk" is used to create partions, and create filesystem on the partition, then mount the partition to the root file system. The disk space is ready to be used.
There is a serious problem though: if the files stored in the disk keep growing, the space will be all used eventually, disk becomes full. Before LVM, the only solution is to add another disk, and mount to a different mount point in the file system. This could be a problem, if the current running program is not aware of new mounting point.
Logical Volume Manager (LVM) is a device mapper target that provides logical volume management for the Linux kernel. It adds a layer between physical disk and file system, and supports the dynamic growing of LVM.

As shown in the above diagram, there are three key enties in LVM:
Physical Volume (PV)
Physical Volume can be either hard disks, hard disk partitions, or Logical Unit Numbers (LUNs) of an external storage device. Volume management treats each PV as being composed of a sequence of chunks called physical extents (PEs). It can be cretaed by using command "pvcreate". "pvdisplay" can be used to show the current PVs.
Volume Group (VG)
Volume Group is a set of same-sized PVs which act similarly to hard disks in a RAID1 array. VGs are usually laid out so that they reside on different disks and/or data buses for maximum redundancy. It can be created by using "vgcreate", and "vgdisplay" can be used to show the current VGs. Also there is tool like "vgextend" to expand VG.
Logial Volume (LV)
Logical Volume is created from VG, and can be acting raw block devices just like disk partitions: creating mountable file systems on them, or using them as swap storage. It can be created by using "lvcreate", "lvextend" to expand the size and "lvdisplay" can be used to show the current LVs.
Another way to look the relations: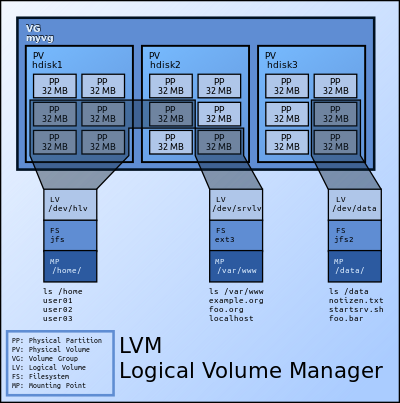 Rcently my little server hosting cross reference search, its disk usage is getting close to full. So I added one 1T hard drive. See below steps I took to provision the new disk into service:
First check what are existing VG, LVs.
Check the new disk /dev/sdb
Create LVM partition on /dev/sdb and create PVs
Add PVs into VG to Extend VG
Extend LVM
Resize LVM