Linux root file systen change while kernel running
by Wenwei Weng
When a Linux system running, there are two critical things: kernel and root file system. They are working together to provide services to user.
In Cisco IR800 platform, I have a need to run a linux which has kind of luxury file system, which includes gcc, make, gdb, dpdk package etc.. When the box boots, it runs a min-linux which has a busybox based very minimum root file system inside DRAM. Since the box BIOS has been closed to have option to boot USB stick, it is not an option to install GRUB, kernel and root file system in USB memory stick to boot distribution like ubuntu.
The solution is to install a new root file system in 8GB USB meory stick and swap to new root file using chroot.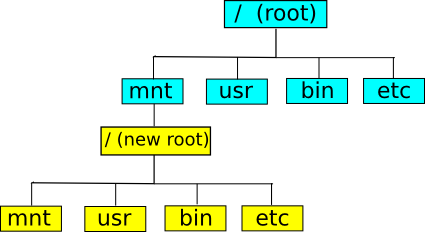 Build a nice root file system using yocto project
I ended up to use yocto project to build a core-image-lsb-sdk image.
Push root file system into USB memory stick
Plug a 8GB USB memory stick into UCS box, and mount ext4 file and USB stick, copy it over
plug into IR800 box to run as new root file system
Now the box is happily running the same kernel, but with a luxury root file system.
Note: I tried pivot_root and switch_root, both didn't work. Googling around I didn't find any solution.