Linux boot up process - systemd
by Wenwei Weng
systemd is the third generation of linux init system, following sysvinit, upstart. The main advantage of systemd is that it brings up all processes in parelell, instead of sequential.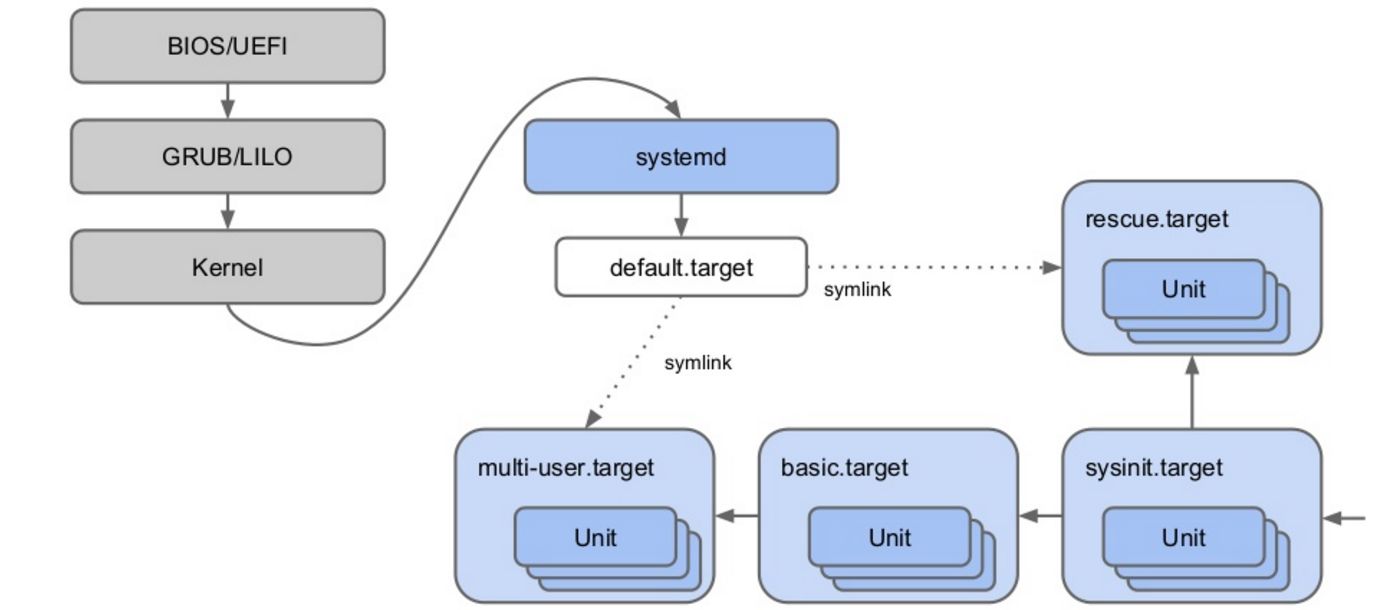 systemd is controversial for several reasons: It's a replacement for something that a lot of Linux users don't think needs to be replaced, and the antics of the systemd developers have not won hearts and minds. But rather the opposite, as evidenced in this famous LKML thread where Linus Torvalds banned systemd dev Kay Sievers from the Linux kernel. Despite that, systemd is being widely deployed in the distributions like ubuntu (15.04+), Fedora, Redhat Enterprise/Centos (7.0+).
systemd is not just the name of the init daemon but also refers to the entire software bundle around it, which, in addition to the systemd init daemon, includes the daemons journald, logind and networkd, and many other low-level components.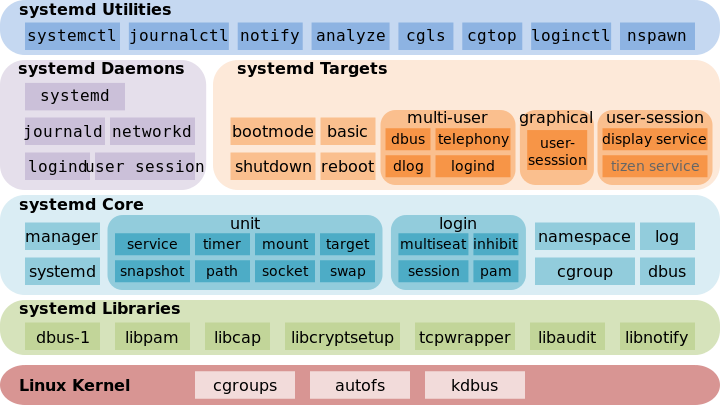 systemd records initialization instructions for each daemon in a configuration file (referred to as a "unit file") that uses a declarative language, replacing the traditionally used per-daemon startup shell scripts. Unit file types include service, socket, device, mount, automount, swap, target, path, timer (which can be used as a cron-like job scheduler[14]), snapshot, slice and scope. below is a unit for for syslog.
systemctl
The main command used to introspect and control systemd is systemctl. Some of its uses are examining the system state and managing the system and services.
"systemctl status" will show the the system status, all processes started by systemd in a tree fashion.
"systemctl list-units" will show all active running units, "systemctl –failed" will show the failed units.
Using units
Units can be, for example, services (.service), mount points (.mount), devices (.device) or sockets (.socket). When using systemctl, you generally have to specify the complete name of the unit file, including its suffix, for example sshd.socket. There are however a few short forms when specifying the unit in the following systemctl commands: If you do not specify the suffix, systemctl will assume .service. For example, netctl and netctl.service are equivalent. Mount points will automatically be translated into the appropriate .mount unit. For example, specifying /home is equivalent to home.mount. Similar to mount points, devices are automatically translated into the appropriate .device unit, therefore specifying /dev/sda2 is equivalent to dev-sda2.device.
| | | | | | | | |
| --- | --- | --- | --- | --- | --- | --- | --- |
| A unit can be operated using "systemctl [ start | stop | restart | reload | enable | disable | mask | unmask ] unit-name". |
Power management
using "systemctl [ reboot | poweroff | suspend | hibernate ]
Using unit file
Unit files are loaded from two locations. From lowest to highest precedence they are:
/usr/lib/systemd/system/: units provided by installed packages
/etc/systemd/system/: units installed by the system administrator
Drop-in files: To create drop-in files for the unit file /usr/lib/systemd/system/unit, create the directory /etc/systemd/system/unit.d/ and place .conf files there to override or add new options. systemd will parse these .conf files and apply them on top of the original unit.
Service types
There are several different start-up types to consider when writing a custom service file. This is set with the Type= parameter in the [Service] section:
Type=simple (default): systemd considers the service to be started up immediately. The process must not fork. Do not use this type if other services need to be ordered on this service, unless it is socket activated.
Type=forking: systemd considers the service started up once the process forks and the parent has exited. For classic daemons use this type unless you know that it is not necessary. You should specify PIDFile= as well so systemd can keep track of the main process.
Type=oneshot: this is useful for scripts that do a single job and then exit. You may want to set RemainAfterExit=yes as well so that systemd still considers the service as active after the process has exited.
Type=notify: identical to Type=simple, but with the stipulation that the daemon will send a signal to systemd when it is ready. The reference implementation for this notification is provided by libsystemd-daemon.so.
Type=dbus: the service is considered ready when the specified BusName appears on DBus's system bus.
Type=idle: systemd will delay execution of the service binary until all jobs are dispatched. Other than that behavior is very similar to Type=simple.
See the systemd.service(5) man page for a more detailed explanation of the Type values.
target
systemd uses targets which serve a similar purpose as runlevels but act a little different. Each target is named instead of numbered and is intended to serve a specific purpose with the possibility of having multiple ones active at the same time. Some targets are implemented by inheriting all of the services of another target and adding additional services to it. There are systemd targets that mimic the common SystemVinit runlevels so you can still switch targets using the familiar telinit RUNLEVEL command.
Get current targets
Targets table

The relation between targets defines the system boot sequence, the typical system boot sequence is like below: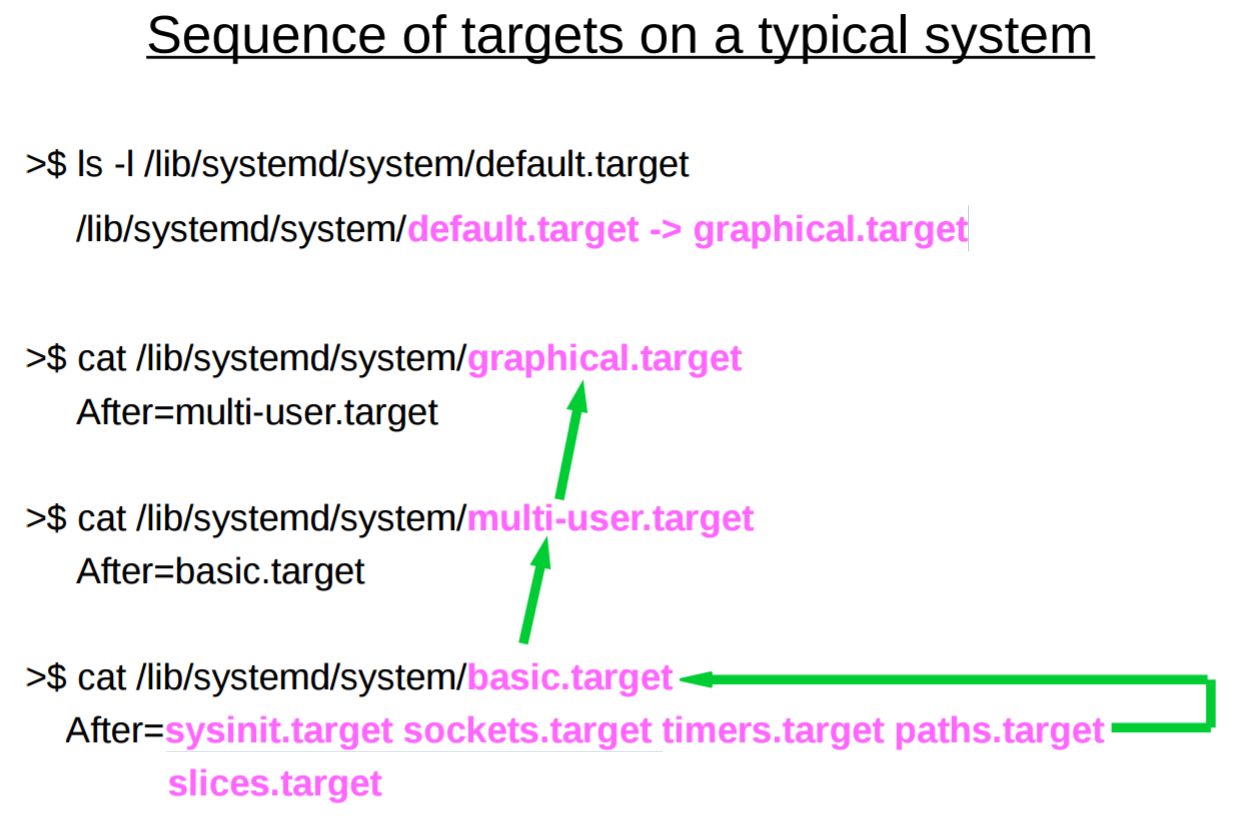 Understand Systemd from Redhat has a great explanation for that.
Unit sample file
reference
https://wiki.archlinux.org/index.php/Systemd
https://en.wikipedia.org/wiki/Systemd