Linux initrd and initramfs
by Wenwei Weng
After Linux kernel boots, it looks for root file system, which can be initrd or initramfs. They are two different ways.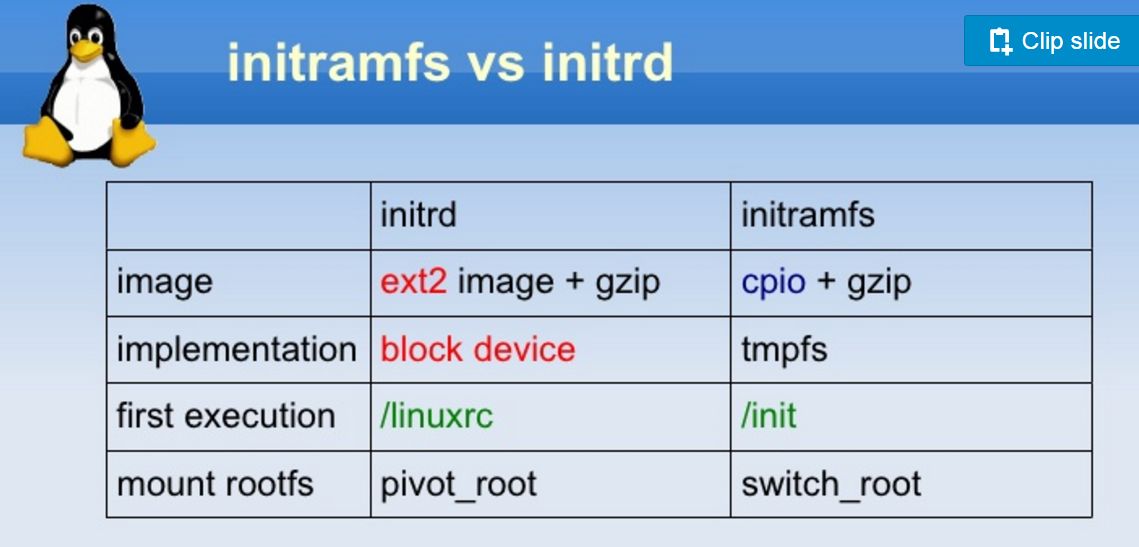 initrd
ramdev block device is created. It is a ram-based block device, that is a simulated hard disk that uses memory instead of physical disks.

| | |
| --- | --- |
| The initrd file is read and unzipped into the device, as if you did zcat initrd | dd of=/dev/ram0 or something similar. |

The initrd contains an image of a filesystem, so now you can mount the filesystem as usual: mount /dev/ram0 /root. Naturally, filesystems need a driver, so if you use ext2, the ext2 driver has to be compiled in-kernel.
Example to create ramdisk image:
initramfs
A tmpfs is mounted: mount -t tmpfs nodev /root. The tmpfs doesn't need a driver, it is always on-kernel. No device needed, no additional drivers.

| | |
| --- | --- |
| The initramfs is uncompressed directly into this new filesystem: zcat initramfs | cpio -i, or similar. |

Sometimes it can be very confusing because it is still called initrd in many places although it is a initramfs, particularly in boot loaders, as for them it is just a BLOB. The difference is made by the OS when it boots.
Create initramfs is a lot simpler, prepare a directory, and holding all needed files inside it, then:
initramfs.cpip.gz, it cal also embedded into kernel directly to make just one binary.
Reference
https://www.kernel.org/doc/Documentation/filesystems/ramfs-rootfs-initramfs.txt