UEFI ARM Linux boot
by Wenwei Weng
For the last few days, I have been working on switching u-boot based bootloader to UEFI based boot loader for a new platform at work. I found out it is useful to able to boot manually with kernel, dtb, initramfs. By doing this, if the thing doesn't work, we can change any one of them to identify which one has issue.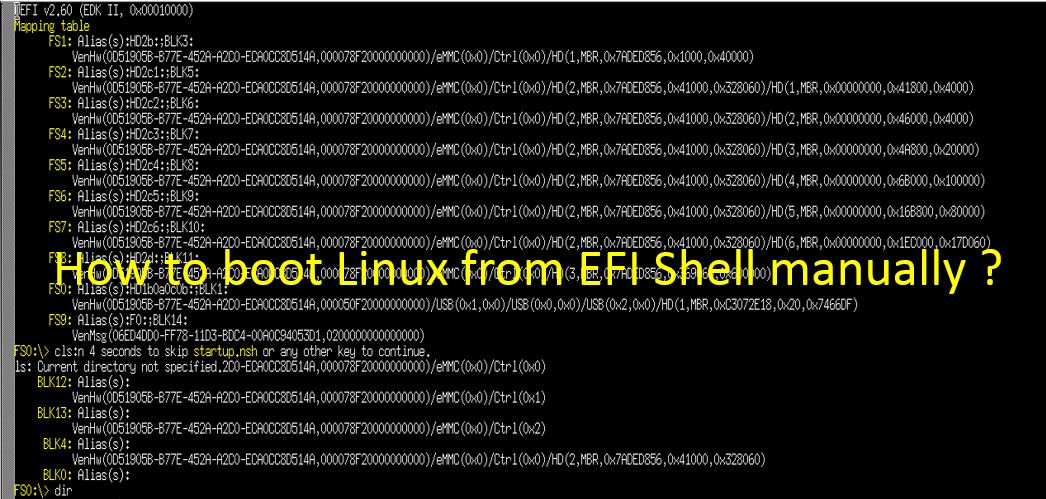 First you need prepare kernel image as "Image" format, device tree blob (dtb file), and initramfs.
Linux kernel image: The Linux Kernel (linux>=3.3) supports EFISTUB (EFI BOOT STUB) booting. This feature allows EFI firmware to load the kernel as an EFI executable from EFI shell. The option is enabled by default on Arch Linux kernels or can be activated by setting CONFIG_EFI_STUB=y in the Kernel configuration.
Make an initramfs file in cpio.gz format.
Build a dtb file from DTS file using "dtc": e.g. dtc -O dtb -I dts -o myboard.dtb myboard.dts
When all three images are ready, and loaded them into USB pendrive, which needs to be in FAT file system.
Cautions: The board needs to have UEFI boot loader image flashed in SPI flash.
If it is running u-boot, then the bootloader image (ATF + UEFI shell + any UEFI Applications) can be burn into SPI flash using u-boot command "bubt". Typically you want to first verify the new UEFI bootloader is working ok before burn into flash, this can be done by running from DRAM, here is an example: (*.fd file is UEFI binary to run, *.bin is ATF+UEFI binary)

Marvell>>  usb start
...
Marvell>>  fatls usb 0:1
06/29/2017  09:38               4,083  armada-7040.dtsi
06/29/2017  09:37              23,880  armada-7040-sparrow-v1.dtb
06/29/2017  09:38               5,952  armada-7040-sparrow-v1.dts
06/29/2017  10:21              23,876  armada-7040-sparrow-v2.dtb
06/29/2017  09:59          13,362,176  Image.440.eval
04/14/2017  19:15          13,428,224  Image.anil
04/19/2017  00:59          13,006,336  image.tsn.weweng
04/14/2017  19:15          12,651,334  initramfs.anilURam
04/19/2017  00:43          20,024,514  initramfs0328.uRam
07/17/2017  15:01          20,024,450  initramfs-0328.cpio.gz
06/26/2017  12:15           1,403,344  sparrow-u-bootloader-img.bin.S0
07/19/2017  12:47           1,217,816  flash-image-17.06-u-boot.bin
07/19/2017  18:14           1,048,576  uefi-img-cisco1.fd
07/20/2017  09:30           1,048,576  uefi-img-efi-shell.fd
07/20/2017  10:02           1,606,320  uefi-bootloader-efi-shell.bin
07/20/2017  13:26           1,048,576  ARMADA_EFI.fd
07/20/2017  17:27             393,216  CiscoRommon1.efi



# load UEFI binary into DRAM at address 0x2000000


Marvell>>  fatload usb 0:1 0x2000000 uefi-img-efi-shell.fd



# relocate to address 0


Marvell>>  

cp 

0x2000000 0 0x100000



# run UEFI bootloader from address 0


Marvell>>  go 0



# after verify it boots to UEFI shell, then it can be burn into SPI chip:




# first reboot the box back to u-boot prompt


Marvell>> usb start
Marvell>> fatls usb 0:1



# Note this time you use the *.bin image which has ATF + UEFI together.


Marvell>> bubt uefi-bootloader-efi-shell.bin spi usb



# after completes, it is ready to reboot and get into UEFI shell

If it is running an old version UEFI boot loader and needs to be upgraded, using "fupdate" command.

 
Shell:

\>

 fs0:
FS0:

\>

 cls
FS0:

\>

 

dir


Directory of: FS0:

\


07/02/2017  10:49               2,831  linux-login-blogs.txt
06/28/2017  16:42 <DIR>        32,768  bringup-june26
06/29/2017  09:38               4,083  armada-7040.dtsi
06/29/2017  09:37              23,880  armada-7040-sparrow-v1.dtb
06/29/2017  09:38               5,952  armada-7040-sparrow-v1.dts
06/29/2017  10:21              23,876  armada-7040-sparrow-v2.dtb
06/29/2017  09:59          13,362,176  Image.440.eval
04/14/2017  19:15          13,428,224  Image.anil
04/19/2017  00:59          13,006,336  image.tsn.weweng
04/14/2017  19:15          12,651,334  initramfs.anilURam
04/19/2017  00:43          20,024,514  initramfs0328.uRam
07/17/2017  15:01          20,024,450  initramfs-0328.cpio.gz
06/26/2017  12:15           1,403,344  sparrow-u-bootloader-img.bin.S0
07/19/2017  12:47           1,217,816  flash-image-17.06-u-boot.bin
07/19/2017  18:14           1,048,576  uefi-img-cisco1.fd
07/20/2017  09:30           1,048,576  uefi-img-efi-shell.fd
07/20/2017  10:02           1,606,320  uefi-bootloader-efi-shell.bin
07/20/2017  13:26           1,048,576  ARMADA_EFI.fd
07/20/2017  17:27             393,216  CiscoRommon1.efi
07/20/2017  17:43             393,216  CiscoRommon2.efi
FS0:

\>

 fupdate file:uefi-bootloader-efi-shell.bin
...


# After it completes, reboot the box to UEFI shell
With UEFI shell ready and all images are ready , you can boot Linux now: