Building a Machine Learning platform using UCS 220 M5 with Tesla P4 GPU
by Wenwei Weng
Machine Learning has been a very hot field. Big players like Amazon, Google, they host machine learning infrastructure in the cloud, which is very nice thing, except it can be very expensive to use it. I'm always curious if I can build one by myself: a relative powerful machine learning platform. The following shows what I achieved using UCS220-M5 with Tesla-P4 GPU.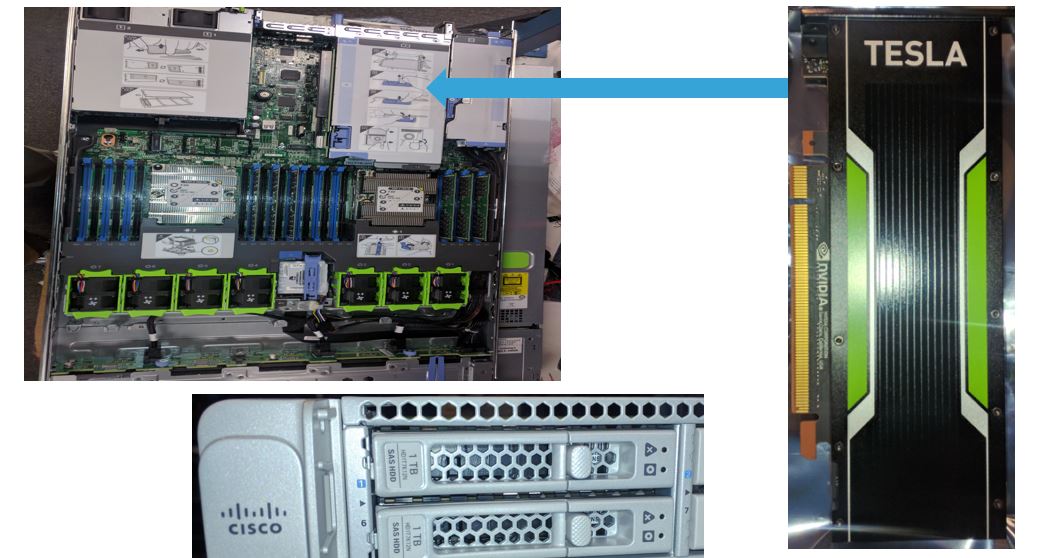 What is required hardware?
CPU: Dual Intel Xeon 6132 @2.6 GHz, 28 cores/each
GPU: Nvidia Tesla P4 (Compute Capability: 6.1)
DDR4: 192 GB
HDD: 2TB
Cisco UCS220-M5 is a good platform to start with!
What is software stack to be built?
The following diagram shows the typical ML software stack. In my case, I build software stack from bottom-up, however top layer, I only build TensorFlow.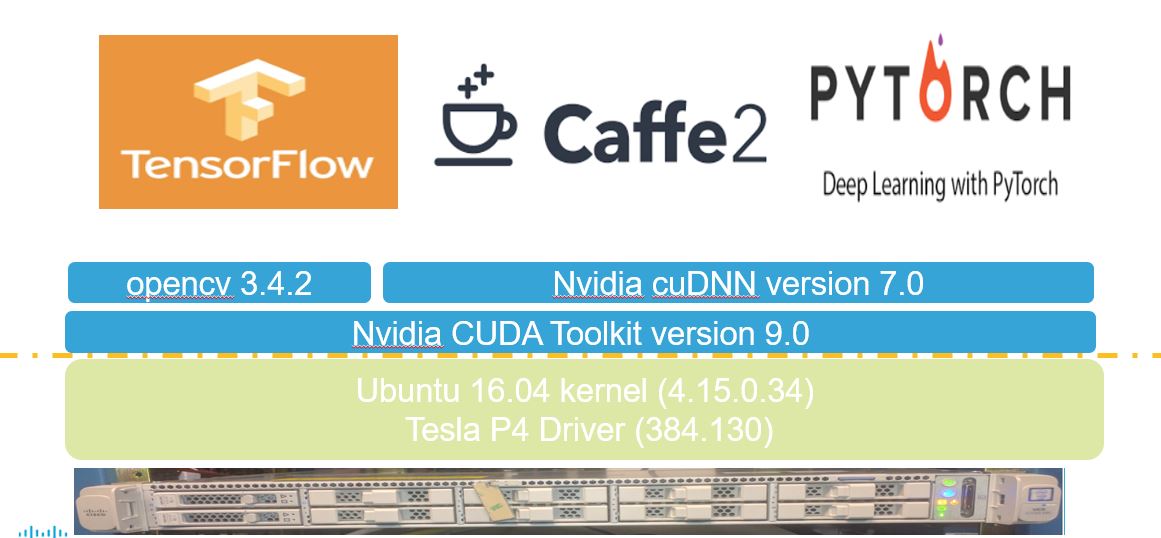 Step#1 Get ubuntu 16.04 box ready
Step#2 Install Nvidia Driver for Tesla P4
From Nvidia site, Tesla P4 driver: https://www.nvidia.com/download/driverResults.aspx/112428/en-us TESLA DRIVER FOR LINUX X64
Version: 375.20 Release Date: 2016.12.9 Operating System: Linux 64-bit CUDA Toolkit: 8.0 Language: English (India) File Size: 72.37 MB New in Release 375.20 New Device Support P100 P4
Recommended CUDA version(s): CUDA 8.0
iot@iotg-ml-2:~/Downloads$ ls -l NVIDIA-Linux-x86_64-375.20.run -rw-rw-r– 1 iot iot 75886564 Nov 16 2016 NVIDIA-Linux-x86_64-375.20.run
Disable X display server:
Install driver from downloaded run file: failed!!!
local run file installation failed because this 16.04.5 is latest version with kernel 4.15.0, which is not compatible with installer file. Switch to use ubuntu repo version.
Install driver using apt-get, luckily, it succeeds!
Wow, it passed! Now let's check if we can see Tesla-P4 device properly?
Very nice! we can see Tesla-P4.
As it turns out version 384.130 is installed, it means we can use cuda version 9.0 Based on: https://stackoverflow.com/questions/30820513/what-is-the-correct-version-of-cuda-for-my-nvidia-driver/30820690#30820690 CUDA 9.2:396.xx CUDA 9.1:387.xx CUDA 9.0:384.xx CUDA 8.0375.xx(GA2) CUDA 8.0:367.4x CUDA 7.5:352.xx  
After driver is installed, I rebooted the box, and X window display is still working!
Step#3 Install Cuda version 9.0
Verify CUDA software is running fine by using the provided sample application device query:
All looks cool so far!
Step#4 Install NVIDIA CUDA® Deep Neural Network library (cuDNN) version 7.1.4
Ref: https://medium.com/@zhanwenchen/install-cuda-9-2-and-cudnn-7-1-for-tensorflow-pytorch-gpu-on-ubuntu-16-04-1822ab4b2421
https://developer.nvidia.com/rdp/cudnn-archive Download cuDNN v7.1.4 (May 16, 2018), for CUDA 9.0 cuDNN v7.1.4 Runtime Library for Ubuntu16.04 (Deb) cuDNN v7.1.4 Developer Library for Ubuntu16.04 (Deb) cuDNN v7.1.4 Code Samples and User Guide for Ubuntu16.04 (Deb)
Step#5 Install TensorFlow: tensorflow_gpu-1.10.0
Step#5.1 install bazel version 0.15.2 first
https://docs.bazel.build/versions/master/install-ubuntu.html
Using installer binary to install:
sudo apt-get install pkg-config zip g++ zlib1g-dev unzip python
https://github.com/bazelbuild/bazel/releases:
Step#5.2 install NCCL
https://developer.nvidia.com/nccl/nccl-legacy-downloads
Step#5.3 Buid Tensorflow
https://www.tensorflow.org/install/source#tested_source_configurations
sudo apt-get install git python-dev python-pip sudo apt-get insall openjdk-8-jdk pip install -U –user pip six numpy wheel mock pip install -U –user keras_applications==1.0.5 –no-deps pip install -U –user keras_preprocessing==1.0.3 –no-deps
Give a drive test!!!
TensorFlow dependacy chart: https://www.tensorflow.org/install/source#tested_source_configurations (at the end of page)