Cisco IR829 As Entertainment System for Bus
by Wenwei Weng
For the past two years, I have spent a lot effort to design software for Cisco IR829. It has been released into market and well received by the market. One of very interesting deployment case is to deploy IR829 as entertainment system for mass transportation vehicle like bus, train, even airplane.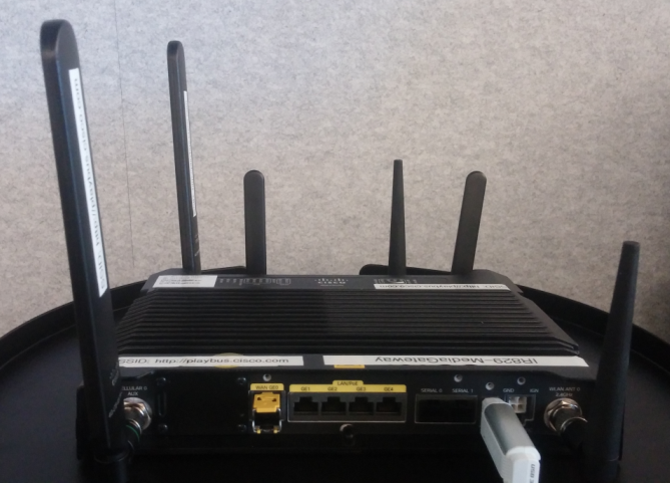 How it works: Packet Flow
IR829 has WiFi AP, runs IOS, and also has a Guest Linux. In addition, IR829 provides an external USB interface, which can connect USB storage device. WiFi AP can provide WiFi connection to the user's smart phone, tablet, IOS can perform routing, and Guest Linux can host a server to provide video service. The external USB interface can be used to plug a USB stick, which can store video files like mp4 files.
The following picture shows the packet flow in high level.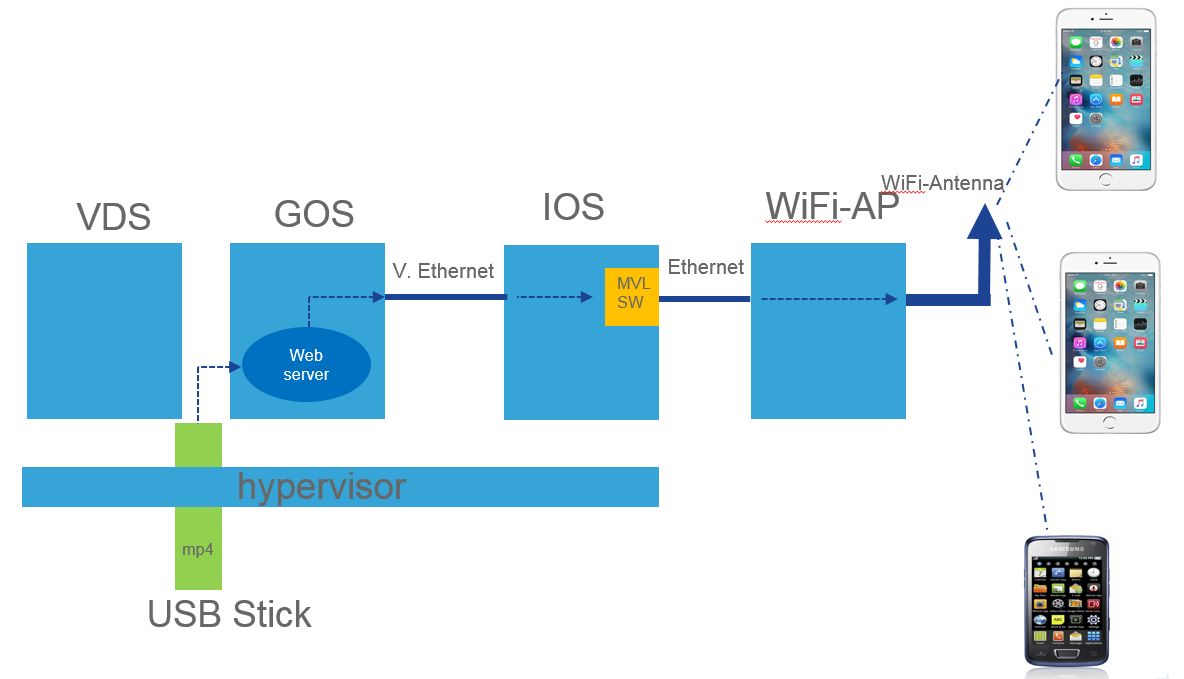 The web server deployed in Guest Linux (GOS) fetchs the video from USB memory stick
GOS sends packet IOS.
IOS routes the packet to WiFi AP module.
WiFi AP module transmits the packet to smart phone.
Smart phone receives the ppacket, play video.
sample configuration to make packet flow
IOS
IOS is configured to connect to GOS through interface GigabitEthernet5 (2.2.2.1).
IOS is configured to connect to WiFi AP module through interface Wlan-GigabitEthernet0.
IOS acts as DHCP server for WiFi AP to provide IP address 192.168.146.[2-244] for WiFi client (e.g. smart phone)
IOS provides DNS service, playbus.cisco.com=2.2.2.2
WiFi AP
WiFi PA is configured to provide an open access SSID: http://playbus.cisco.com, which is associated with interface Radio0.
Guest Linux (GOS)
USB stick has apache tomcat web server installed. Also it has media files. Java virtual machine is installed under /software/opt/. Note: in some case, it may be required to create softlink using "ln -s /lib /lib64".
The following is the setup needed to auto start tomcat webserver, set up ethernet interface, GOS routing table.
With the above set up in place, the user can use a smart phone or tablet, connect to WiFi SSID "http://playbus.cisco.com", and open a web browser, type "http://playbus.cisco.com" to enjoy video.
For a full template, Download here