IP Multicast Routing Configuration
by Wenwei Weng
Multicast routing is an important aspect of IP routing. It can be used to distribute data (for example, audio/video streaming broadcasts) to multiple recipients in a very efficient way.

Two key protocols of multicast routing
Multicast Group Membership Discovery protocol: used by clients (receivers) to advertise their group membership to a local multicast router so that they can join and leave multicast groups. The main Multicast Group Membership Discovery protocols are Internet Group Management Protocol (IGMP) for IPv4 and Multicast Listener Discovery (MLD) for IPv6.
Multicast Routing Protocol: used to communicate between multicast routers and enables them to calculate the multicast distribution tree of clients. Protocol Independent Multicast (PIM) is the most important Multicast Routing Protocol. It operates three different modes: dense, sparse and sparse-dense.
IPV4 Multicast address
The "classful" IP addressing scheme sets aside a full one-sixteenth of the address space for multicast addresses: Class D. Multicast addresses are identified by the pattern "1110" in the first four bits, which corresponds to a first octet of 224 to 239. So, the full range of multicast addresses is from 224.0.0.0 to 239.255.255.255. See below diagram for further classification:
Below are examples of using IGMP and PIM (under three different modes) to enable muticast routing.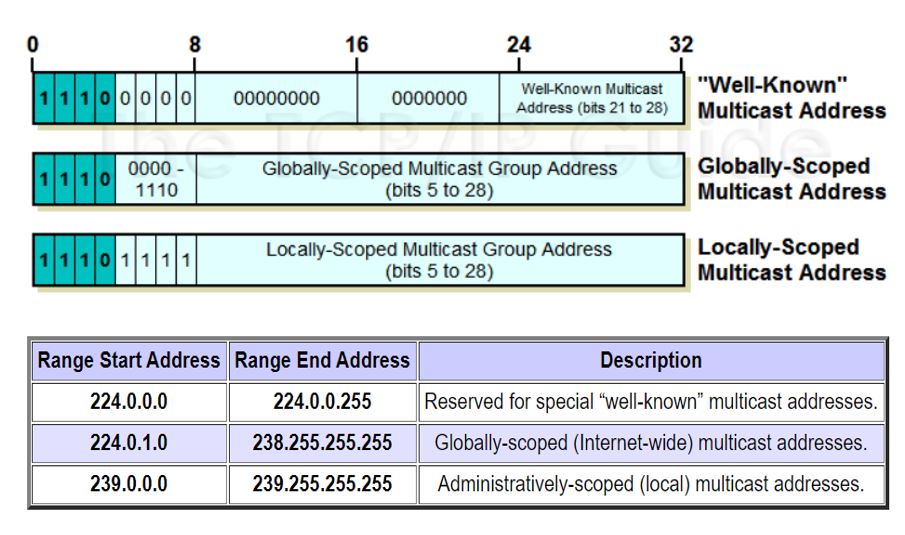 A simple multicast IP Network Topology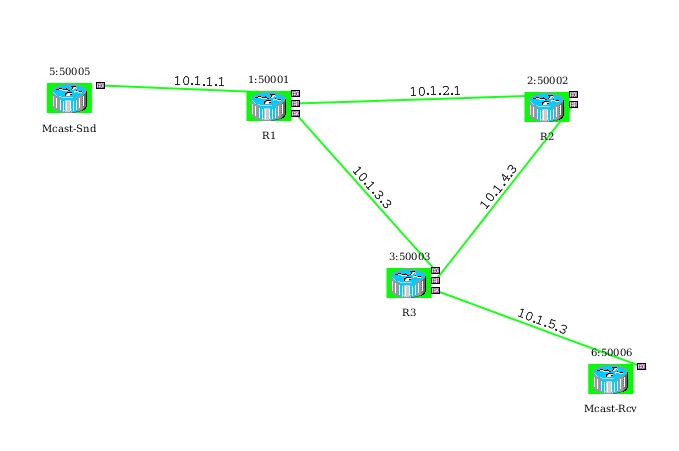 There are three routers (R1, R2, R3), plus one Multicast sender and one Muticast client/receiver. For convience, I use Cisco IOL image. The basic underlying routing is static route:
Muticast Sender: interface and basic routing
Muticast Receiver: interface and basic routing
Muticast Router #1: interface and basic routing
Muticast Router #2: interface and basic routing
Muticast Router #3: interface and basic routing
Configuration of dense mode
First configure all three Routers R1, R2, R3 to enable PIM dense-mode
Router R2:
Router R3:
Multicast Receiver/Client to register into a multicast group, in this case to join 239.1.1.1:
Multicast Sender can ping to receiver with 239.1.1.1
Now we can check the multicast routing table of each router
Dense mode works in a flood and prune mode, which can cause a lot traffic in the network. Next, let check sparse mode of PIM.
Configuration of sparse mode
PIM sparse mode works through a Rendezvous Point (RP), which is a router in a multicast network domain that acts as a shared root for a multicast shared tree. In sparse mode only, RP needs to be configured in each muticast router manually. In our case, Router 2 is used as RP, using its loopback 0 IP address 2.2.2.2.
Configuration of sparse-dense mode
When the number of multicast router is large, it is not easy to configue RP node for every router. There is easier way to do so, which is let router auto discovery RP by running sparse-dense mode. This essentially means that use dense mode to discover RP, but return to sparse mode to establish distribution tree.
With above configuration, we can check each router's multicast routing tabl
The above lab is based on below excellent youtube video: Multicast from Kevin Wallace