Scapy tool for network packet manipulation
by Wenwei Weng
Scapy is a powerful interactive packet manipulation program. It is able to forge or decode packets of a wide number of protocols, send them on the wire, capture them, match requests and replies, and much more.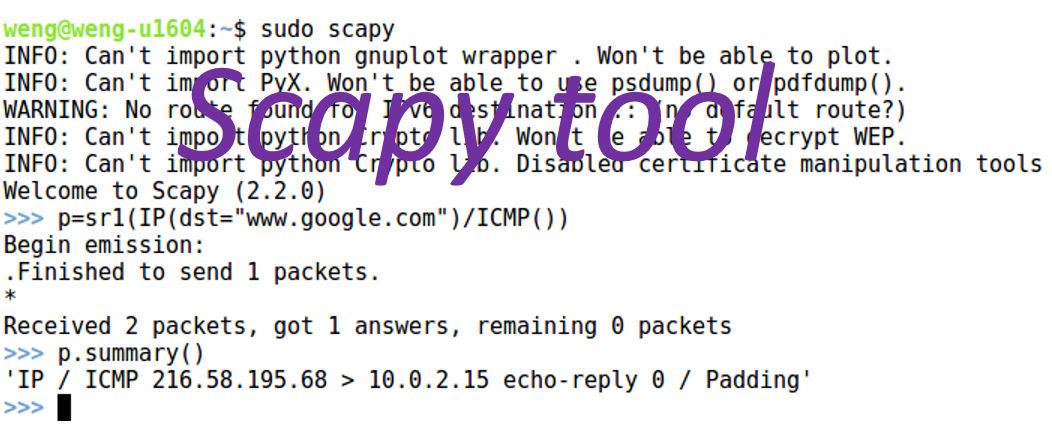 scapy is built using Python, it can run in interactive mode or write in python script to automate tasks.
Let's go through some basic tasks to get started:
Installation
You can go to scapy home page to download the package to install. In my case, I run scapy in ubuntu 16.04, it is an easy step as below:
Start scapy in interactive mode
Simply type "sudo scapy", it will bring you to interactive mode:
To see what you can do under interactive mode, type "lsc()" tells what are available commands:
As it is shown, there are many commands, let's pick a few commands to play around.
sniff packets
The below shows the example to sniff 7 packets from interface "enp0s3". While it is sniffing, I have web browser pointing to "www.google.com".
We can see that the first packet is a DNS query packet, we can dig into deeper:
Create packet and send packet
If we already have a packet, and want to send that the same packet, see below example:
There is send() command to send L3/IP packet, and sendp() command to send L2 frame. E.g. to send a ping command to www.google.com, the following commands will do:
In the above example, "Ether", "IP", "ICMP" are protocols/layers' name supported by scapy. If you type command ls(), it will tell all layers/protocols.
More, scapy has command like below commands to send and receive response packet:
sr(): Send and receive packets at layer 3
sr1(): Send packets at layer 3 and return only the first answer
srp(): Send and receive packets at layer 2
srp1(): Send and receive packets at layer 2 and return only the first answer
see example below: it use sr1() and srp1() to send a ping packet to www.cisco.com, and receives back response successfully.
running Scapy in a Python Script
see example below to do the exact same as above to ping www.cisco.com